Experienced and Postive Instructors make a Difference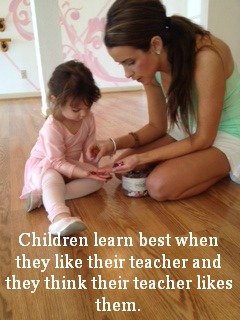 Catherine's Dance Studio teaches ballet, point, leaps and turns, jazz, tap, lyrical and hip-hop dance to kids 3-
18. The dance instructors are positive role models who teach our smaller classes which enables students to learn technique and develop skills necessary to excel.
For more information about our dance instructors, our classes or for a free week of dance classes, call (816) 214-7370 or fill out the contact us form.
Krsitin began dancing at the age of two with Ms. Catherine and has never stopped. As a high school freshman Kristin was a dance assistant at a local dance studio. She was on the St. Pius X dance team and was co-captain her senior Year. For 4 years, she danced with the Northwest Missouri State Dance Company and was a choreographer for 2. She performs jazz, hip hop, lyrical and partner dances. She is coaching the new dance team at Park University.
Abby was one of Catherine's first students when classes were taught in her bedroom at her home. She was on her high school dance team her senior year. Abby graduated from Platte County High School (2014) and is attending Park University. She was a member of Park's Spirit Squad. Abby, with support from Park University and Catherine's, started a dance team at Park. She is now the captain of the "Crimson Dancers." Especially exciting is her new role with the Royals, KCrew for 2016!
Leigh started dancing at age two and hasn't stopped since! She is originally from Chicago, Illinois where she trained at Summers Academy of Dance and Berkshire Ballet Theatre in ballet, pointe, jazz, modern, and contemporary. While a member of the BBT Company she performed leading roles in Cinderella, Coppelia, Giselle, and The Nutcracker. She danced at Milwaukee Ballet Summer Intensive, Joffery Ballet Summer Intensive, and Chicago Dance Connection on full scholarship before venturing off into the world. Leigh has a Bachelor's in Dance from Grand Valley State University in Grand Rapids, Michigan. While a student there she was able to work closely with choreographers from various companies such as Cheiko Imada (Ballet Tucson), Michael Phillips (Pascal Rioult), Thang Dao (Thang Dao Dance Company), and Amanda Edge (NYCB). In addition, she was also one of the few dancers to be brought on an international tour that included cities in Germany, France, and Denmark. Upon graduation from college, Leigh joined the Eisenhower Dance Ensemble in Detroit, Michigan as a company member until moving down to the Kansas City with her husband in 2011. Leigh is back to teach ballet at Catherine's after a hiatus spent concentrating on her Nurse Anesthetist degree and we are so happy to have her!
Kaylee Spain started dancing at the age of three. She began studying ballet seriously at the age of eleven with Katie Thieme. She studied with many accomplished ballet instructors throughout her teen years including Watmora Casey, Tatyana Mazur, Sherry Moray, Elise Flagg, and Carl Corey. During this same time, Kaylee won regional and national titles and many scholarships through Kid's Artistic Revue, Dance Educator's of America and many other competitions. Kaylee also competed at Youth American Grand Prix and received high enough scores to attend workshops at American Ballet Theatre and Alvin Ailey. Kaylee also attended several intensives at The Rock School of Ballet in Pennsylvania and the Joffery Ballet in Chicago. Kaylee attended college at the University of Iowa and majored in dance. There she studied under professors such as George De La Pena, and Charlotte Adams. She finished her Bachelor's degree in Dance at the University of Kansas in May 2017. There she studied ballet under Jerel Hilding, choreography under Jerel Hilding and Patrick Suzeau, jazz under Willie Lenoir, and Dance for Children under Muriel Cohan. Kaylee has taught ballet, pointe, jazz, lyrical, and leaps and turns for six years at several studios in the Chicago area. She was Ballet Mistress at Adagio School of Performing Arts before leaving for college. There she established curriculum, ran the ballet program, and choreographed several pieces for recitals and competitions. Besides dancing and teaching, Kaylee enjoys horseback riding, cooking, baking, and knitting. Kaylee is very excited to begin teaching at Catherine's!"
Elizabeth Palmer is the Office Manager at Catherine's Dance Studio. She comes to Catherine's with a background in higher education, retail and nonprofit positions in management, sales, operations and career development. Her strengths include organization, communications, flexibility and event planning. These assets make her a great fit to work with Catherine and Judy as they execute business systems and keep our parents informed at the dance studio! Elizabeth has a BA in Business Administration from Truman State University and is currently working on her Masters in Secondary Education from the University of Phoenix.