The Information you want to know!
We know how important it is for parents to know what is going on in the Dance Studio. We post a lot of information on our Facebook page. Unfortunately, you may not always get the latest notification in your home feed from Catherine's Facebook page. We suggest you bookmark this page and check back for updates and current information about dance classes, recitals, pictures, and rehearsals!
---
Wednesday, May 31st Run Through Day at the Studio
Class run through time is listed below:
3:30 -Monday 3:30
4:00 -Monday 4:00
4:30 -Monday 5:00
5:00 -Tuesday 4:00
5:30 -Tuesday 5:00
6:00 -Saturday 9:00
6:30 -Wednesday 4:00
7:00 -Wednesday 5:00
7:30 -Thursday 4:15
8:00 -Tuesday 6:00
Thursday, June 1st Run Through Day at the Studio
4:00 6:30 The following classes:
Monday 6:00
Wednesday 6:00
Thursday 5:15
Thursday 6:15
Saturday 10:00
Saturday 11:00
Wednesday 7:00
6:30 9:00 The following classes:
Monday 7:00
Monday 8:00
Tuesday 7:00
Tuesday 8:00
Thursday 7:15
Thursday 8:15
Saturday Noon/1:00
Saturday 1:30
Friday, June 2nd Day of Rest If Soloist/Duets would like set a time to run through their song
Signing up for Classes for 2017-2018 School Year
Priority Registration for current students will be May 8-13th. Registrations will be in person during dance classes and during dance recital photos.
---

2017 Summer Dance Camp information.
To view the class schedule in detail, please click on it. Click on the sign-up form, print, complete and bring to the dance studio!
---
Spring 2017 Recital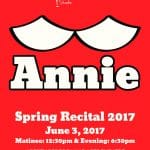 It is never too early to plan! Our Spring Recital, Annie, is June 3rd! More details will be forthcoming in time! Check this page for all the up to date information for Catherine's Dance Studio!
Shows will be at 12:30 pm and 6:30 pm
Tickets for the recital will go SALE May 1st!
More information below Dance Competition dates!
---